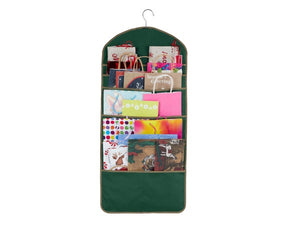 All About Tidy is a participant in corporate affiliate programs, including Amazon Services LLC Associates Program. Affiliate advertising programs provide a means for sites to earn advertising fees by linking to Amazon and other affiliate sites at no expense to you.
Storing gift bags and tissue paper can be a challenge. It can't take up much room, but it must be neat and easy to access when its time to give a gift. The hanging gift bag storage solution allows you to keep bags and tissue neat and also store scissors, tape, bows, and other gift wrap essentials within reach. The hanging storage takes up minimal space and can be slipped into any closet. 
The multiple tiered pockets allow organization by holiday without clutter. Designed to hold up to 100 gift bags.