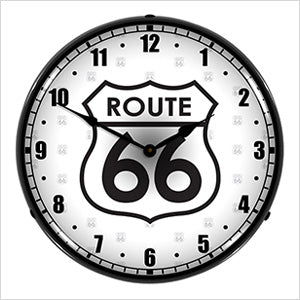 All About Tidy is a participant in corporate affiliate programs, including Amazon Services LLC Associates Program. Affiliate advertising programs provide a means for sites to earn advertising fees by linking to Amazon and other affiliate sites at no expense to you.
Once your garage and mancave are tidy, add the finishing touches.
This backlit illuminated wall clock has a look and feel of the vintage clocks from the 1950's but all the modern technology from the 21st century. The clock measures 14 inches across. The outer lens is made from high-quality optical lexan held in place with 3 removable rivets - it's scratch resistant and won't yellow over time. The face is cut out by a CNC router and the image is placed with a UV dried computer-controlled printing process.