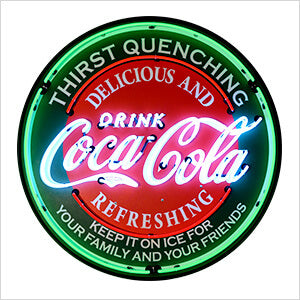 All About Tidy is a participant in corporate affiliate programs, including Amazon Services LLC Associates Program. Affiliate advertising programs provide a means for sites to earn advertising fees by linking to Amazon and other affiliate sites at no expense to you.
Once your garage and mancave are tidy, add the finishing touches.
Neonetics' 36-inch Coca-Cola neon sign in a metal can features multi-colored, hand-blown neon tubing. This sign has a 3-foot diameter, and the glass tubes are surrounded by a sturdy, commercial-grade black steel housing.
This neon sign comes suspended in a wood crate designed to transport this giant neon sign. Unpacking instructions are included. All you do is hang it up and plug it in – no assembly or special wiring required.