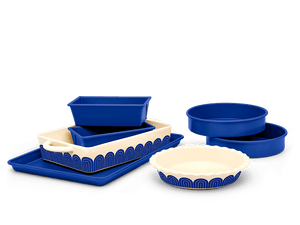 All About Tidy is a participant in corporate affiliate programs, including Amazon Services LLC Associates Program. Affiliate advertising programs provide a means for sites to earn advertising fees by linking to Amazon and other affiliate sites at no expense to you.
The Great Jones seven-piece collection of essential bakeware will set you up for success in the kitchen. Casseroles, cobblers, loaves, cakes and so much more will fill your kitchen with this bakeware set. 
What We Love About This Bakeware Set
Oven safe and dishwasher friendly

Your choice of color
Nonstick and nontoxic- baked goods pop right out
Set Includes:
Holy Sheet

2x Breadwinner
2x Patty Cake
Hot Dish
Sweetie Pie
Visit Great Jones for more info on the bakeware set, including cleaning and care instructions.