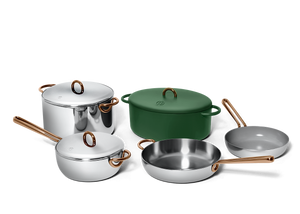 All About Tidy is a participant in corporate affiliate programs, including Amazon Services LLC Associates Program. Affiliate advertising programs provide a means for sites to earn advertising fees by linking to Amazon and other affiliate sites at no expense to you.
The Great Jones five-piece collection of essential cookware is a staple for every home. The cookware set includes a mix of cast iron and stainless steel designs. Pare down clutter for a tidy kitchen with this set- focus on the pieces you actually need. 
What We Love About This Cookware Set
It is safe for stovetops-even induction
Your choice of color
Cookware shares lids and nests perfectly to save space
Set Includes:
The Dutches
Big Deal
Deep Cut
Small Fry
1x Big Lid
1x Small Lid
Visit Great Jones for more info on the cookware set, including cleaning and care instructions.