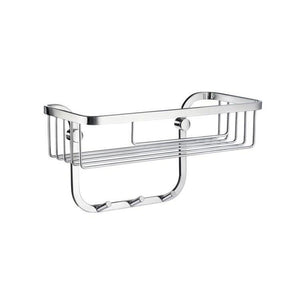 All About Tidy is a participant in corporate affiliate programs, including Amazon Services LLC Associates Program. Affiliate advertising programs provide a means for sites to earn advertising fees by linking to Amazon and other affiliate sites at no expense to you.
The Sideline range of flexible shower and bath baskets answers a functional need in a very stylish way. Sideline shower baskets are available in several different models that can be screw-mounted on the wall or hung in the shower. The core material is solid brass with a polished chrome finish.
This wall-mounted, single-tier shower basket keeps holds shampoo, bath gel, and other bathing essentials organized to keep them organized and within easy reach. Features three hooks that are perfect for hanging a bath brush, squeegee, bath pouf, or other items. Concealed mounting fasteners keep the look streamlined. Measures 10-5/6" wide x 5-5/8" high overall and extends 4-1/2" from the wall.